11 Aug

4 Benefits That Digital Signage Can Bring to Marijuana Dispensaries

It's a veritable green rush out there. As of election season in late 2016, eight states and Washington, DC had legalized adult-use recreational cannabis, while 28 states had approved medical marijuana programs. This market posted a staggering $6.7 billion in revenue in 2016—and shows no signs of slowing down, as the North American market is expected to exceed $20.2 billion by 2021.
Suffice it to say that this industry is profitable. Despite the immense possibilities, however, marketing in the marijuana market can be tricky. Thanks to ever-changing rules and regulations, and immense competition, dispensaries must ensure they're both compliant and connecting with the right consumer.
Paired with the right software, digital signage can boost a business's bottom line and ensure compliance. From putting new customers at ease to improving the in-store purchasing experience, signage can augment the dispensary experience. Read more to see some of the benefits that digital signage can bring to marijuana dispensaries.
1. Educate Customers
Although legalization has effectively worked to reduce stigmas and stereotypes surrounding cannabis consumption, the product is sometimes still shrouded in smoke. Because the industry is still in its infancy, there are still many new consumers who may have anxieties or uncertainties about the product—whether related to the purchasing experience or consumption itself.
Digital signage can help these newcomers find the right products for their needs. These tools enhance the knowledge transfer process by directly providing personalized product information to customers. Interactive touchscreens enable consumers to augment their in-person dispensary experiences with self-guided product discovery. This increases comfort and puts new, intimidated, or timid customers at ease with their on-premise experience.
2. Enhance the Customer Experience and Atmosphere

Touchscreen-enabled digital signage not only educates customers, it also enhances their entire experience. Not only have interactive monitors, tables, and screens worked their way into restaurants, retail spaces, and other consumer-facing businesses, they've become prevalent in luxury and upscale establishments. Consider Native Roots Aspen, a dispensary located in the swanky Colorado ski town. To match its environs—the dispensary is flanked by art galleries and designer clothing shops—the dispensary leverages digital signage to complement its sleek, chic interior.
As this illustrates, touch monitors, tables and kiosks can help create a desired atmosphere—from casual and relaxed to upscale and luxury—while building a brand's image. In turn, this can increase brand loyalty. According to brand-building expert, speaker, and author Denise Lee Yohn, customers are more apt to buy from a brand with which they feel an emotional connection. Digital signage can enhance the customer experience by providing ambiance and comfort, while creating this connection.
3. Improve Customer Service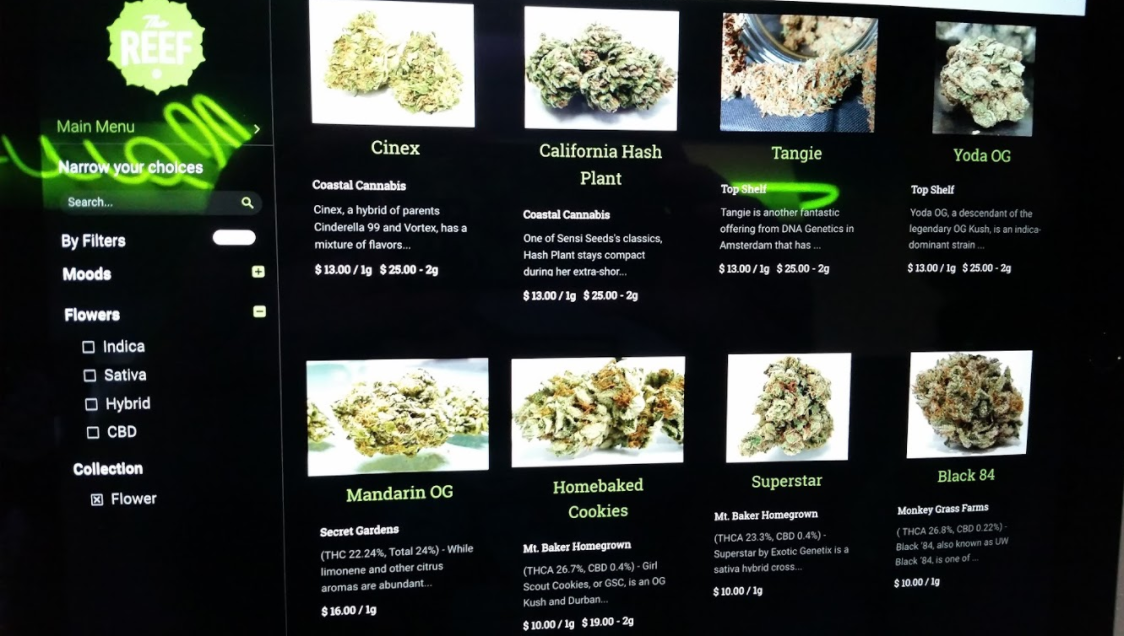 Interactive catalogues can greet customers and answer specific questions they may have. Because customers are already doing preliminary in-store research with the help of interactive digital signage, by the time they reach the dispensary counter, they should have a general idea of what they'd like to purchase. This not only delivers improved customized customer service, it caters to the needs of the modern consumer. A recent survey found that 91 percent of respondents would prefer to use a digital knowledge base if it were available and tailored to their needs.
Interactive tools also deliver customized assistance without draining human resources. Rather than budtenders having to answer numerous questions from every customer at once, interactive digital signage optimizes their availability, reserving their time for only the most pressing customer inquiries.
4. Improve Compliance
As mentioned above, the cannabis industry is constantly in flux, making it tough for dispensaries to keep track of marketing and advertising rules and regulations. Interactive digital signage paired with the right software not only helps dispensary owners display uniform, approved messaging about their products and specials, it provides real-time analytics to help them adapt and react accordingly.
Interactive software and hardware work in conjunction to mine cannabis consumption data to inform digital advertising campaigns. These tools provide organizations with in-depth analytics so dispensary owners know exactly who is interacting with what advertisements. Not only does this ensure compliance, it empowers them to create customized messaging.
Because customized experiences increase sales by up to 20 percent, digital signage and corresponding software can boost a dispensary's bottom line. Business owners ensure their marketing and advertising efforts are compliant—and salesincrease. Who said marijuana marketing has to be any more difficult than it already is?